Sally Adams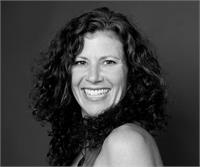 At 24, after 21 years of dancing (ballet, modern, jazz, tap) I needed a new way of stretching my body. I was perpetuating bad habits and felt stuck in my progression. I found myself in a hot, sweaty yoga class at Global Yoga in San Francisco. I never looked back. I thought I would incorporate both dancing and yoga but it took me several months before I could. The yoga wiped me out at first and at the same time left me feeling alive and peaceful. I knew I just needed to let the yoga alone work it's magic in me. When I went back to dance class, I was stronger, more flexible, had great stamina and I felt better than ever.
For me working with my body has never been just that. It has always been a way to connect with the spirit of joy and connect with my soul. The 26 postures are like coming home. They allow me to be who I am, they give me comfort, they challenge me, they make me honest, they make me grateful and most importantly they show me how physical well being and the states of balance, peace and love take constant vigilance.
Sally Adams instructs the following:
26 postures and 2 breathing exercises in condensed time. All levels welcome!!!




Enjoy the Bikram Yoga Series in 75 minutes.




26 postures and 2 breathing exercises practiced in a heated room designed to restore health, strength and flexibility to the entire body. (Bikram's Method) All levels welcome!!