Tara Murphy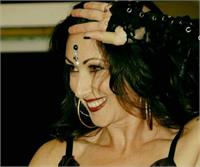 Yoga has been a mainstay in my life since the first time I stepped onto a mat 12 years ago. My advanced training and practice is considered Hatha Flow, as well as enjoying benefits and variety from Bikram, Vinyasa, Yin and AcroYoga. I received my 200 hour certification from True Living Yoga in Northport, New York and my 500 hour certification from Santa Cruz Yoga in Santa Cruz, California. The main focus in my upbeat classes are how yoga can be interpreted on and off the mat. It's of utmost importance to infuse a real life, grounded approach in my teachings, each class beginning with a brief inspirational reading to remind students that yoga is just as important outside the yoga studio! I also thoroughly enjoy Tribal fusion Bellydance, kittens , roller skating and chocolate chip cookies.
Tara Murphy instructs the following:
Where yoga & hip-hop collide! Join Tara Murphy for a Hatha Flow class to hip-hop music, inspired by the Wu-Tang Clan. This is an exciting and unique part of our GOOD VIBRATIONS series weeknights at 7:30pm.