Roger Tompkins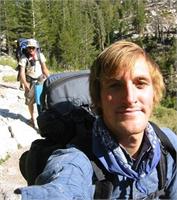 I have been practicing Bikram Hot Yoga for about 10 years now, at first averaging 1-2 times per week for the most part. I was initially drawn towards the energetic and detail-oriented practice as a way to counter-act some of the tightness I was creating in my body by being involved with agricultural labor. I also wanted a strong workout; I think somehow the stress from the heat and the difficulty of the postures helped me feel that much more fulfilled. It was incredibly difficult at first but something kept drawing me back, and there was no denying that even though I felt exhausted directly after class I also felt so much relief and relaxation. Slowly but surely the practice helped me to gain a greater body awareness as well as more intimate connection with my own breath. I began to notice how it was affecting every aspect of my life; difficult, uncomfortable, and challenging situations could be seen in a new light of acceptance by staying calm and connected with the breath. Gradually over the years I became more and more interested in the science of yoga until finally this year I took the step to attend a teacher training. It is still strange to consider myself as a teacher now after this many years as a student but I am so grateful and excited to have the opportunity to share with others this practice which has been so beneficial in my own life.
Roger Tompkins instructs the following:
Enjoy the Bikram Yoga Series in 75 minutes.




26 postures and 2 breathing exercises practiced in a heated room designed to restore health, strength and flexibility to the entire body. (Bikram's Method) All levels welcome!!




A 75 minute dynamic movement class designed to build deep core strength, and enhance overall body strength. Benefits include a deeper sense of stability that will support the longevity of your yoga practice, and help to prevent injury. Be prepared to have fun while working hard!

Benefits:
With consistent practice, expect:
A deeper sense of stability in the belly and back
Prevention of injury to your joints
Increased bone density
Improved brain function
Increase in beneficial hormonal cascades
To have strength in planks, push-ups, squats, lunges and balancing postures
To feel more confident with complex movements, such as moving fluidly through a vinyasa
To have a renewed sense of PLAY in your practice




26 postures and 2 breathing exercises in condensed time. All levels welcome!!!