Sally Arena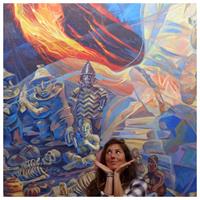 My yoga journey began in 2008, at Village yoga. Immediately I was motivated to keep coming back and developed a regular practice. Most of my motivation came from seeing the way the practice had transformed my sister into a healthier and happier expression of herself; which was backed by the glowing vibe of the teachers and other practitioners at Village Yoga.Around that same time I was introduced to Rusty Well's class in San Francisco. At every opportunity, I attended his class. It was there where I was introduced to Bhakti yoga; the spiritual practice of love and devotion.In 2012, I attended the Bikram yoga teacher training, where the mind's limits of the body was blasted away to discover a euphoric state of breath moving body experience. Since training I have taught in Santa Cruz, San Jose, San Francisco, Ashland OR, Monterrey MX, and Gilroy.In 2014, I completed a 200hr yoga alliance certified Vinyasa training with Les Leventhal. Where I learned about writing sequences and safe hands on adjustments. I further explored the joy of the practice as a celebration of the divine, which resides in all of us.I am very excited to be back in Santa Cruz, where I first started my yoga practice. When I am teaching, it is my intention to facilitate a space for people to get curious about the breath, mind, body, spirit and their connections. If you want, you can change your world into heaven.
Sally Arena instructs the following:
26 postures and 2 breathing exercises practiced in a heated room designed to restore health, strength and flexibility to the entire body. (Bikram's Method) All levels welcome!!




26 postures and 2 breathing exercises in condensed time. All levels welcome!!!