Alana Truax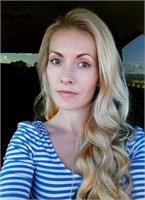 I was first drawn to Bikram Yoga in 2006 after having severe anxiety and panic attacks. In a search for holistic ways to heal, I had finally found what I was looking for. Something that really worked! Now I am so fortunate to be a part of the wonderful community here at Village Yoga. Giving back after all that I've learned from my own practice and experience throughout the years. My hope is to guide and support everyone who walks through the door to find peace and joy with this practice of meditation and yoga. Its never too late to start over and try again.
Alana Truax instructs the following:
26 postures and 2 breathing exercises in condensed time. All levels welcome!!!




Enjoy your favorite HOT 26 express class to MUSIC as part of our weekday evening GOOD VIBRATIONS series at 7:30pm.




26 postures and 2 breathing exercises practiced in a heated room designed to restore health, strength and flexibility to the entire body. (Bikram's Method) All levels welcome!!